Natural Sea sponges
Caress of nature that awakens the senses
Taking care of your face and body is a serious matter. Natural sponges can do better.
Sponges live on the seabed and are primitive animals belonging to the category of porophores. Kalymnos is known throughout Greece and abroad for fishing for excellent quality sponges.

The sponges are harmless and friendly to the skin as they do not cause allergies, they are gentle and in addition to cleansing the skin, it also removes dead cells. They are resistant to abrasion, very soft, do not stain and do not retain odors. The best sponges are those of the Aegean and the Mediterranean in general due to the special marine conditions and the greater amount of salt that gives durable sponges of superior quality.

The Ancient Greeks, the Romans and the Byzantines used it with sponges for the care of their face and body, the cleanliness of the space, the writing, the painting etc.
Honeycomb
Mediterranean types of sponges

The honeycomb sponge is almost spherical and mostly heavy and thick. The bottom surface, which sticks to the substrate is rough. The color is usually dark brown and can be found at depths of 9 to 80 meters. The fishing grounds of honeycomb are mainly in Crete, the Cyclades, Evia and the Dodecanese.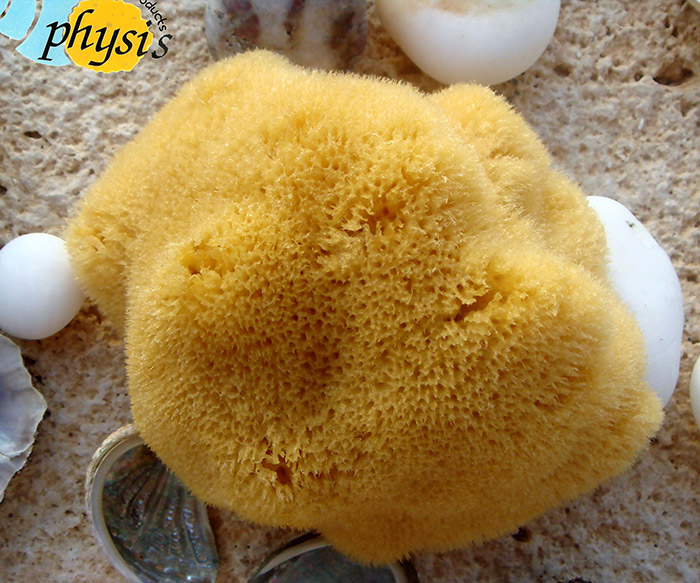 Fina silk
Mediterranean types of sponges

Fina silk is considered the best and most expensive type of sponges with a very wide variety. The color varies inversely depending on the turbidity. It is a solid sponge and has great elasticity and flexibility. Its characteristic feature is the sandy feeling due to a very fine texture. It is mainly located in Crete, Evia, Samos and the Dodecanese at a depth of 100 meters.
Hardhead
Types of sponges from other seas

Hardhead sponges are typically round and hard sponges. It belongs to the same category as Fina silk sponges, but they come out at shallower depths.
Grass
Types of sponges from other seas

Hardhead sponges are absorbent, durable, yet soft. Their texture makes them good and cheap bath sponges.
---
Wool
Types of sponges from other seas

Wool sponges are a type that is characterized by its exceptional softness and beauty. They make the bathroom simply refreshing. While they are relatively hard at first, they tend to soften with each use. Avoid using chlorine of any kind on these or other sponges as this will weaken the fiber and shorten the life of the sponge. You can also use it in cosmetics, car washes, appliances and carpets as well as in painting.